myPIX : Foto-Packs von 5 Cent pro Foto-Abzug !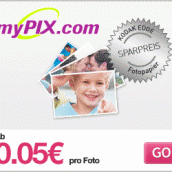 Photo of the pack sind eine großartige Möglichkeit, um etwas zu verbringen, um Ihre digitalen Fotos auf Fotopapier entwickeln.
XX bietet zwei verschiedene Arten von Abzügen, "Premium" und "Spar". Die Kameras verwenden zwei Packungen Kodak papiper. Das Premium Foto-Pack Drucke sind in 48 Stunden gedruckt, während die Drucke "spar" in vier Tagen produziert werden.

0.05 euros pro photo :
Mit einem Einstiegspreis von 5 Cent pro Foto-Abzug, Foto-Packs von myPIX.com sind wahrscheinlich die beste Lösung für das Drucken großer Mengen von Drucken auf einem sehr niedrigen Preis.